The Foundations
When we broke ground, I knew exactly what to do. It was very evident we needed to create an architectural crystal grid to land the new space. I have been working with crystals for over 40 years now so the coordinates of North, South, East and West were the obvious starting point.

So that's what is sitting beneath the building — a sacred grid of crystals buried into the Earth. The opportunity for healing begins the moment a client's feet touch the floor.

We then worked energetically up from the ground, choosing the most ancient material of all — metal — for our 5,000 kilogram and over three-metre high staircase. It works as a direct portal to the sun, the moon and the water catchment sitting directly above the space.

The sandstock clay bricks we salvaged during construction now sit proudly as our feature wall. Remarkably and to our delight, each brick has a diamond, double diamond, all i see is a 'V' etched into it. We see this wall as an ode to Paddington's history and recognition of the labour it took to build, we are privileged to serve. We respect and honour the labour and the service of those who came before us.

We love that our new space is not just beautifully appointed for energy, calm and nourishment, but that it has been designed for our exquisite clients and makes it a joy for our trained artisans to perform their mastery.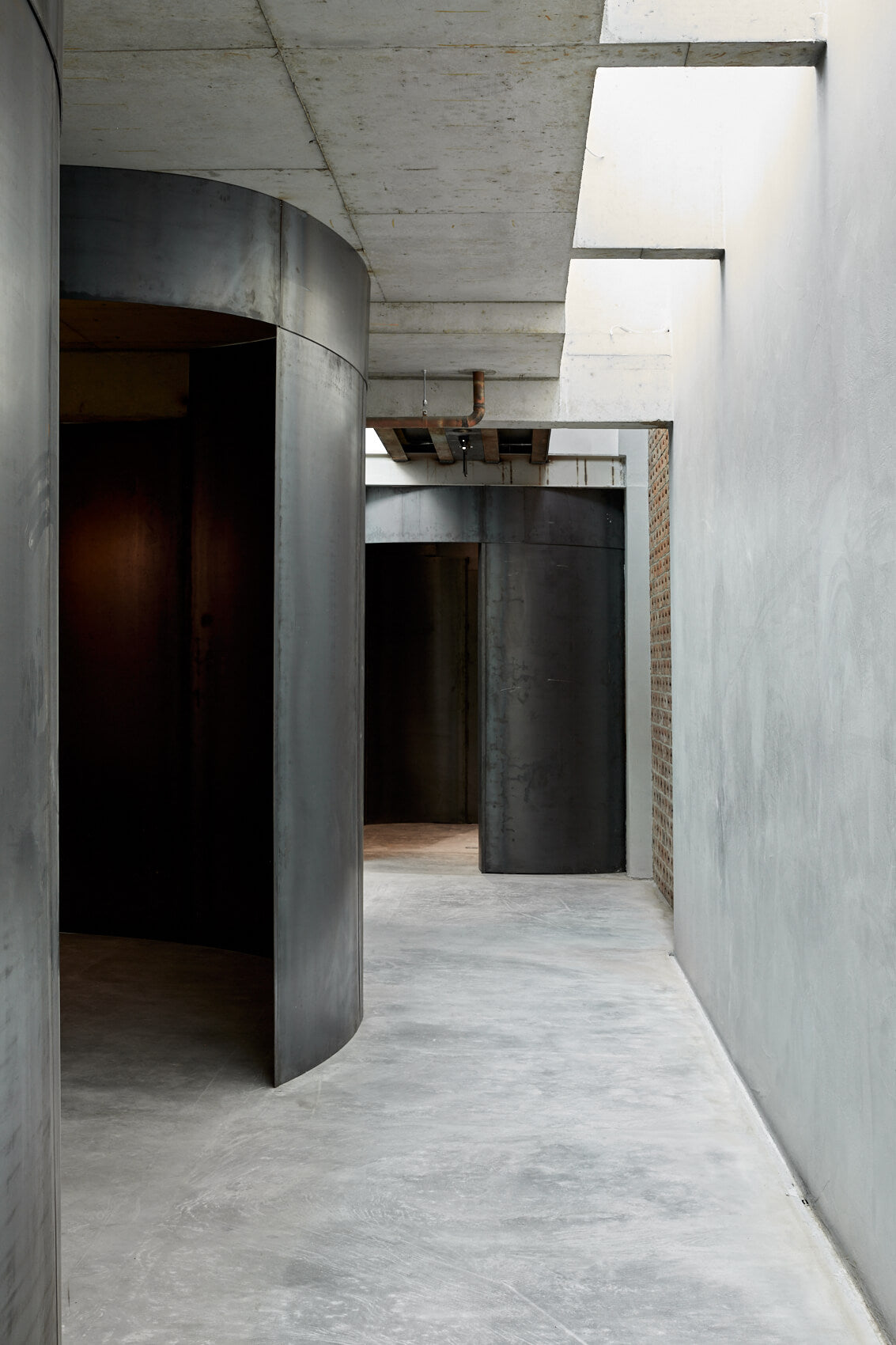 Our Materiality
Our intention is for the nervous system to be relieved the moment someone enters from their outside worlds. This is why an unusual but method-based mix of glass, precious metal and natural fibres are interlaid in our pods.

Using the most ancient material in the world — metal — with luxurious fabrics like cashmere and the existing sandstock bricks has been a source of great joy.

It's how we design our treatments, too. A magic alchemy response to our clients' needs for nourishment and rest. This is also the reason we look deliberately different from other beauty and body spaces.

Reclaimed sandstone found on our 'Farmacy' rooftop is facing with cashmeres, linens and state of the art temperate control for the ultimate tactile environment. Putting ancient materials to work with the rich history of sandstone has been a long held dream of mine. The duplicity is calming and familiar, but also spatially so sound and from a design perspective, it delivers a distraction free environment so clients can receive the maximum value with us.
The Scale
It's the vastness, emptiness and impressiveness that is our version of wholehearted luxury. We've focused on enlarged dimensions in order to play with beautiful negative space. We feel people need space to retreat from this sometimes confronting world we all find ourselves in. When scale hits the bare necessities, we believe optimum relaxation is possible.

Our four-metre high egg-shaped treatment pods, reduce the sharp edges a building like ours was born with. The shape of the pods also speak to our love of numerology with each outline being the shape of the number three, and then the two pods sitting together at either end of the space each create a figure eight. Our address is 383 Oxford Street.

We believe we need to provide not only an elevated environment, but also a super safe, contained and private environment. One that you can lean into and feel held, and one that we feel we need to give you everything we feel is needed.

When a client is in their pod, they really are in the most sacred, loving and secure of spaces, wrapped in a cone of ancient metal. It's the exquisiteness you expect from Venustus but with the reductive design skills that honour the sun and the moon as our starting points.
Our Mastery
We invest in people — both our elite artisans and our clients. It's a merging of our goal to be our best and serve those to be their best. We aim to deliver treatments for what is needed now energetically and what clients are feeling, through highly trained years of experience.

This is why our work does not lead to at-home product sales like you might be used to, although you can request products.

We create our products to elevate the treatments, to elevate you.
The Access
The moment a client arrives, we want them to be transported. Minimal administration and ideally, no sign-in. We are preparing for a client's experience hours and sometimes days before they arrive and we offer a simple digital roadmap to ensure the most incredible, heightening, 'in real life' experience. If there is anything we need to know, they'll tell us. Otherwise, we let the magic happen. We let these trained aestheticians do their best work.
Licensing is for one commissioning party only for the following media: printing, website, magazine, PR and social media.

The photographer retains copyright of all the images.
Opening Hours
Tuesday

10am - 7pm

Wednesday

10am - 7pm

Thursday

10am - 7pm

Friday

10am - 7pm

Saturday

9am - 6pm